For decades of enlightenment without an external source of energy
In summer 2020, Swagelok was able to realise an other interesing custom solution project. For mb-microtec, global market leader of self-luminous gas light sources, we drafted and built a customer specific panel for gas testing. If you also wear a watch that lights up at night, there is a big chance that it contains trigalight too.
The Swiss company mb-microtec, founded in 1969, is developping and producing trigalight, a light source that shines for decades without additional energy. Tiny tubes are filled with tritium gas and are supplied to watch-, security and automotive industries, as well as to aerospace industries around the world.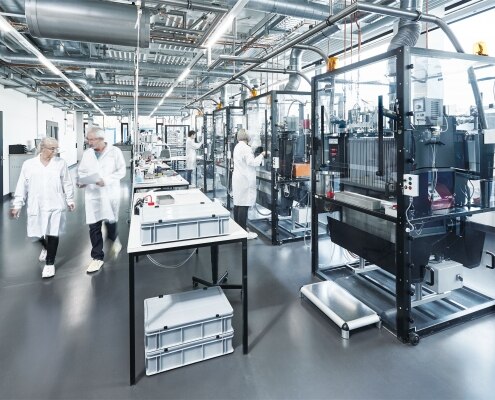 Production plant in Niederwangen, near Berne, Switzerland
Development as well as production is taking place in Niederwangen near Bern under the highest quality standards. In a complicated process, glass tubes are coated, filled with tritium gas, cut to the desired length and air-sealed. Finally, every single trigalight is subjected to strict quality and safety controls. This led to the collaboration with Swagelok, because the highest levels of precision are required for filling and checking the glass tubes. For this purpose, a custom solution panel was planned and built in Wohlen to avoid leakages in the fluid system during the entire process.
do you need a customized solution too?
More info on Tritium
Tritium and its decay product, an isotope of helium, are non-toxic compared to the previously used radium for light sources. The gas is tritium (H3), an isotope of hydrogen, which also occurs in traces in nature. Tritium occurs naturally in the stratosphere.
In addition, tritium is a by-product from the generation of energy in heavy water reactors. It is extracted from the cooling water in a complex process. Thanks to two neutrons, the tritium nucleus is unstable and decays with a half-life of a good 12 years.
traser swiss H3 watches
1989, mb-microtec launched the world's first self-luminous watch under the brand of traser. At that time, the clock was delivered to the US Army because it met their special requirements. The self-luminous technology trigalight guarantees the perfect readability of the time in the dark and gives an unchanged light guarantee 24/7 for at least ten years without an external energy source. The watches are robust, durable, waterproof up to 20 bar and 100 % Swiss made.
further references can be found here
Do you have questions on our services or products? We are looking forward hearing from your.
E-Mail info@arborag.ch | Tel. +41 56 485 61 61